Hours:

11am - 11pm EST
Monday - Friday

1pm-11pm Sat

Tel:

Cell:

919 553-3980

919-614-4297

FAX:

919 553-3980

eMail:


Thank you for visiting Siebert Optics!
Serving Large Observatories and the Amateur Astronomy Community alike.
200 Short Johnson Road
Clayton, NC
USA 27520
_______________________________
Products:
Eyepieces From .965" / 1.25" / 2.0" / 2.7" / 3.0" / 4.0" / 4.3"

BT70 RA88 / Miyauchi / Kowa eyepieces
Advanced Barlow Lenses including: Modular and 4 element Telecentric magnification multipliers
1.25" and 2" Advanced Binoviewers From $649-$1999
Binoviewer OCA's and Accessories

Adapters - Meade Scopes and ETX


Large and Small Non Illuminated and Illuminated Cross haired eyepieces.

Large and Small Binocular Cleaning and Alignment services $99 Call or Email for details.

Special binoviewer services and products you cant get anywhere else
ICP's Image Correction Prisms for Newts
Observers Hood - light blocking


Ladies Corner
Astronomy Themed Fleece Blanket
Non-Astronomy Items
Welcome to Siebert Optics
2 - 4 week wait at this time. Click Here
Read the info within and you will understand why Nothing even comes close.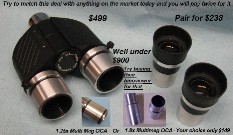 2.7",3" and 4" Eyepieces and Diagonals Click Here or below.

Large refractor OTA's >>>>

Need a large custom Modular made OTA Click Here or above.
New Orthos Here Triple-S Series

Click here for the New 2" T-2 modular Barlows.
Supercharge your Stellarvue, Williams Optics and many others like it.



Do you want to share the same high End Binoviewing experience as those who own expensive models from the Big Prism Binos (TV, Denk, Baader) at a fraction of the cost. Do you already own one of the following binoviewers: Williams Optics, Orion, Stellarvue, Burgess, Celestron, Moonfish and Baader 23's etc..... Then you already have what you need to get started. Why pay $900+ For the privilege of using low power wide field EP's Click here for details.
(Specialized Binoviewer services you can't get anywhere else)
Triplet Objective Binoculars For $99
The very latest large Aperture 1.25" and 2" binoviewer from SiebertOptics. The Dielectric 40mm CA, 19oz, $999 VP-Echelon Here compare to TV Click Here.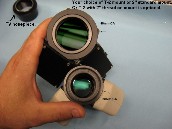 (Specialized Binoviewer services you can't get anywhere else)
Home of quality, affordable Telescope Optics such as Eyepieces, Barlow Lenses, Image erecting prisms, Diagonals that focus. Low Power Illuminated Focusable Eyepieces, Special modified Binoculars. Camera focusing adaptors for all telescopes including the PST. Adaptors so your filters fit your eyepieces Adaptors so your Diagonals fit you scopes. and a variety of different size of high quality Binoviewers and OCA's for all Binoviewers (for comfortable two eye viewing) and other binoviewer accessories. Computer section Click Here
More things of interest Delrin 2" 1.25" T - 2 or T thread End Caps.
Please feel free to check out our site. If you have any questions, please feel free to ask either via email or phone (1-919-553-3980). Harry will try to answer any questions you may have as promptly as possibly.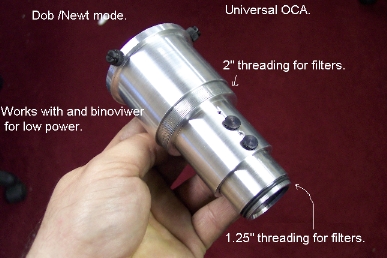 Click here to go to the OCA and binoviewer corrector page.
Click Here to go to the PST and H-Alpha bino corrector page.
Universal 1.3x and Zero mag OCA's above. This means you can use any binoviewer with little or no magnification added. Always see it here first. This technology, although similar to the OCS technology, has different characteristics and applications.
1.25" 22mm Black Night Dielectric
All binoviewers and bino accessories come with a 60 day money back guarantee.
Gift Certificates are available for any amount you may wish. Just email or phone and ask how you can obtain one.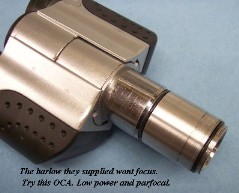 Page for All OCA's including Low power" correctors for Baader, Burgess, WO, Stellarvue, Celestron, Orion, Moonfish, BC&F, Binomate and the like. More info..
-----------------------------------------------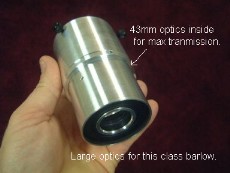 Here is the 2" Ultra barlows similar to the TV powermate.

Also look at the new modular element barlows for 3 magnifications in one barlow.
-----------------------------------------------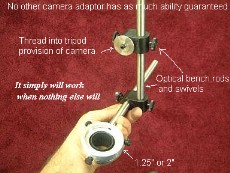 Universal Camera adaptors for both 1.25" and 2" focusers and your most demanding applications. These will work with any telescope-camera-eyepiece combination.
-----------------------------------------------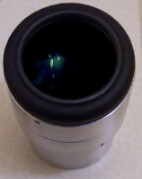 Our 2" Observatory series are unmatched for the price in performance. Edge is flawless at F/5 and even below.
-----------------------------------------------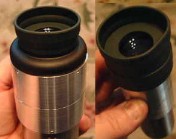 The Ultra series are the perfect blend of Eye Relief and Wide FOV. Sharp in fast scopes and comfortable to look through. Try one you'll like them.
-----------------------------------------------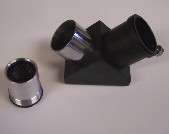 Do you need an Inch" Check this out. Zero mag Camera Focus adaptor It will give you 1 inch of focus free of magnification. And help with coma.